Growing up as a teenager in the late 90s/early 00s gave me debilitating expectations when it came to dating and love. As a 27-year-old woman that should know better, I still hold out hope. Lord help me.
10 Things I Hate About You
I've been patiently waiting since 1999 for a dude to pull a Heath Ledger and perform some grand romantic gesture to win my affection. Is a public proclamation of love so much to ask for? DAMN.
The Notebook
A guy that will risk his life on a Ferris Wheel, write me 365 letters, build me my dream house and stay with me through my impending Alzheimer's? When will I finally understand that this guy, much like the limit, does not exist?
Can't Hardly Wait
I always admired how Preston pined for and creeped on Amanda from a distance.  A guy that shows that much devotion in high school? Keeper.
Ever After
Okay, Drew Barrymore's God-awful accent aside, this movie was my mecca. It's cheesy and overly saccharine but what girl doesn't want her very own Cinderella story?
Fear
Sans the murderous rampage and killing of the family dog, I was always oddly attracted to Mark Wahlberg's character. A guy that will throw down for you, tattoo your name on his chest and take you to funky town while riding a rollercoaster? Yes, please.
Clueless
God, Paul Rudd is an absolute peach in this one. Till this day he remains my blueprint for the perfect companion. A well educated, experienced, goofy dude that accepts me wholeheartedly. And since I've never had stepsiblings, that awkward situation will be avoided.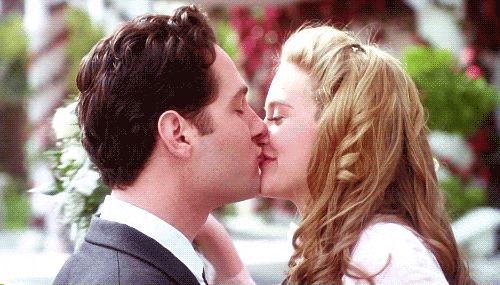 She's All That
Fine, the whole reason the two main characters got together was because of some jank bet. And sure, Laney Boggs had to get a ridic makeover to capture Zack's attention, but this was romantic gold to a 12-year-old me. All I wanted from that moment forth was a guy that knew his way around a hacky sack and could bust some moves to Fatboy Slim.
A Walk To Remember
Nicholas Sparks sure knows how to write 'em. Despite this movie giving me the worst second-hand embarrassment I've ever experienced, who can hate on a character like Landon? Not only does he help Jamie realize most of her bucket list items, he puts up with her collection of awful sweaters and ends up marrying her even though she has (spoiler alert) leukemia! I can barely get a guy to text me on a consistent basis, much less put a ring on it.
Never Been Kissed
No, I was never that dorky in high school. Yes, I was eventually kissed. But, nevertheless, I always related to Drew Barrymore's Josie Grossie. I'm still waiting to run into my own personal Michael Vartan, I just hope I don't have to impersonate a high school student to do so.
Drive Me Crazy
Portraying a hipster before they were even a thing, Adrian Grenier did a great job of stealing my heart thanks to his big ol' green eyes and floppy mess of brown hair. I have never in my life had a neighbor this ridiculously adorable and probably never will.